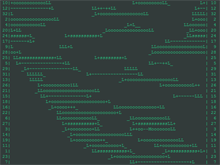 The GAGE Facility provides and hosts various pre-processing or post-processing of GPS/GNSS, TLS, and SAR data.
TEQC
Teqc software is end-of-life (EOL) following the 2019-02-25 final release. This final release will continue to be available from the GAGE website. For more information, see the white paper: Geodetic Data Services Plan for GNSS Modernization: Data Formats and Preprocessing Tools.
TEQC (Translation, Editing and Quality Checking) — is GAGE-designed and supported for a variety of GPS/GNSS pre-processing and quick post-processing tasks, including translation to RINEX or BINEX, time windowing, satellite filtering, metadata correction, dataset merging or splitting, and GPS/GNSS quality checking of the data including coarse point-positioning.
GAGE will continue to host the teqc email forum, which will live on as a user to user forum. We will also work to ensure that the teqc mail list archives are searchable via the GAGE web site search/Google search. GAGE will also continue to host existing teqc documentation as well as the teqc "helpful tip of week" archives.
We would like to thank Dr. Lou Estey, the creator of teqc, for developing and supporting this software tool and its user community for the past 22 years and we wish him the best in his retirement.
GPS/GNSS Data Pre-processing
GPS/GNSS Data Pre-processing may be required for translation, metadata correction, time windowing or other filtering, and/or perform quality checks prior to post-processing the data. GAGE provides links to several tools, such as Hatanaka RINEX observation file compression/decompression, Trimble's runpkr00 for conversion of .r00/.t00/.t01/.t02 to .dat/.tgd, GPSTk, and others.
GPS/GNSS Data Post-processing
GPS/GNSS Data Post-processing — Several software packages to process precise GPS data for research applications have been developed by different international research groups. The availability of executable code, documentation, and user support varies with the individual development group. GAGE provides links to several major groups providing some level of support for the designated processing software packages (see menu at left).
TLS Software
TLS Software — GAGE maintains a software license server that enables community access to a variety of LiDAR and geospatial software packages.
SAR Software
SAR Software — community access to a variety of SAR processing packages, maintained by GAGE on the WiSAR site.