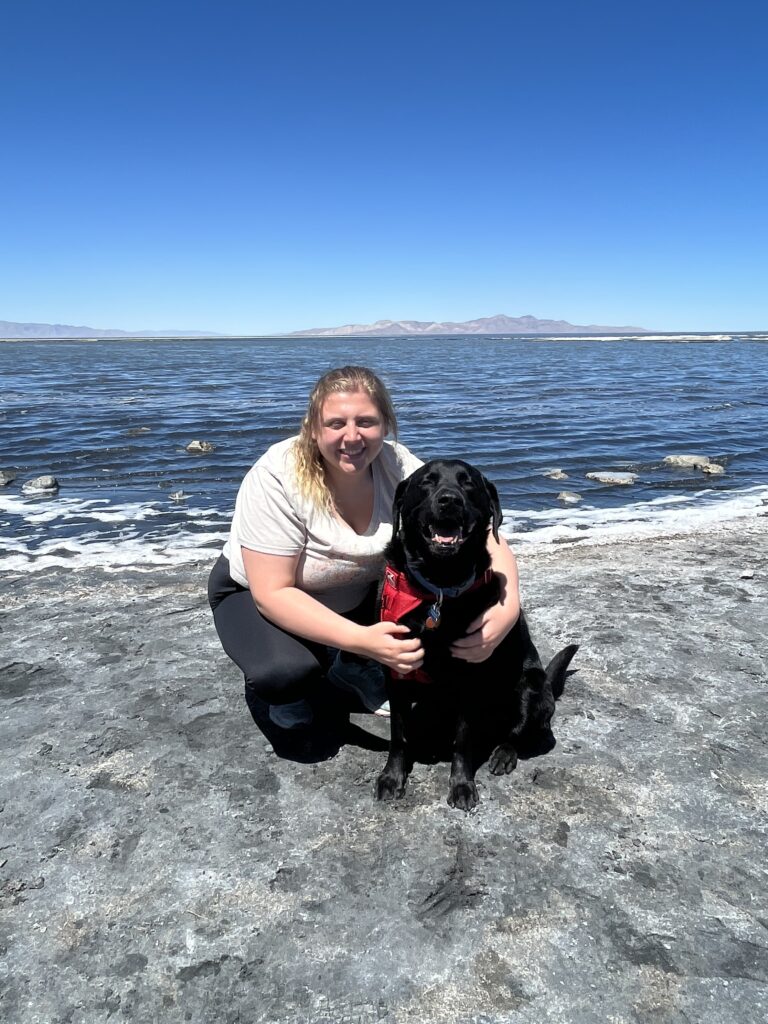 This summer we're introducing interns in the RESESS, Geo-Launchpad, and USIP programs to shine a spotlight on the research projects they are completing throughout these 11-week internships and on their interests in geoscience.
Lucia is a returning USIP Communications Intern who graduated from Rutgers University in New Jersey in spring of 2021. Lucia switched her major from chemistry to geology early on in her college career, and took a particular interest in studying the presence of hydrothermal mineralogy on Mars to investigate the climate of Mars 4 billion years ago. Increasing diversity and accessibility in geosciences was always important to Lucia, which fostered her interest in science communication.
Lucia is working with her mentor Scott Johnson on projects such as graphic design, video editing, conducting interviews, as well as social media management. During her first internship, Lucia focused on writing and social media, and this summer, she is honing her digital design and editing skills in programs like Adobe Illustrator and Premiere Pro. Lucia has enjoyed interviewing other interns for spotlights in UNAVCO's news feed both this summer and the previous year, as she enjoys both interviewing others and being able to draw attention to the many non-traditional paths that one can take to get involved with geoscience.
Q&A
What has been your favorite part of the USIP program so far?
It's a tie between when I got to go on the Mount St. Helens trip with the RESESS Satellite interns, and being able to do graphic design as part of this internship. I was really nervous to do it, but I actually had a ton of fun getting to make the stickers and practice those skills. I would call myself a fairly artistic person, but I don't get to work on art very often, so it's been nice to be able to use these graphic design skills that I don't usually think about.
What have you gained from your mentorship with Scott Johnson?
I think that Scott is an amazing mentor in general but also specifically for me, because I think that his skill set kind of rounds out my skill set. I've done quite a bit of technical writing, writing up my research, writing up scientific articles and stuff like that throughout college, but the journalistic type of writing we do is not something I've done too often. I've gotten a lot more comfortable with it thanks to Scott's guidance. I've found that when he does edits for the blogs I write, there have been many fewer edits this year compared to last, so I know that my style is evolving where I can do the technical writing, but also make things more understandable to the average person.
Have you learned about any new topics/research techniques that have really piqued your interest?
The thing that I really think I've learned is graphic design, where I was terrified to do it in the past whenever I needed to edit or remove something, all the aspects of the programs felt super overwhelming. And so I didn't know when I'd ever have a time to like, just sit down and take a week or two to just practice working in Adobe Illustrator. And so that was amazing where I could just sit down, watch all the tutorials on Adobe's website, play with it and have some time to experiment and figure things out. And I feel like I've made some stickers that I'm really proud of.
---
Going forward, Lucia will be pursuing her PhD at the University of Texas at Austin this coming fall, and she hopes to get a job in academia afterwards. Ideally, Lucia would work as a tenure-track professor, as that would allow her to both do her research and act as a teacher and science communicator. She believes that what she learned here as a science communicator will be essential to being the type of educator that she wants to be—someone who is able to break things down and allow anybody learning science to fully understand and appreciate it.
Written by:
Zach Courter, USIP Intern
Posted: 5 September 2022
Last updated: 8 November 2022
Tags: internships, USIP