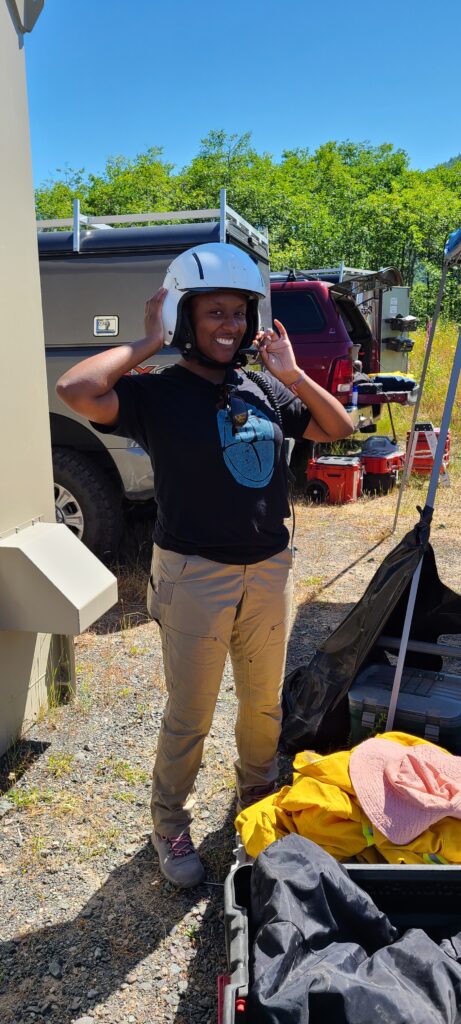 This summer we're introducing interns in the RESESS, Geo-Launchpad, and USIP programs to shine a spotlight on the research projects they are completing throughout these 11-week internships and on their interests in geoscience.
Kayla Byrd recently graduated from the University of Michigan, where she graduated with her bachelor's degree in material science engineering with a minor in graphic design. Kayla participated in Junior Reserve Officer Training Corps (JROTC) in high school, through which she was able to visit local colleges for weekend educational programs in math and science. She entered college knowing that she wanted to major in engineering, and throughout her time in school, found her passion for chemistry and material science. While in school, Kayla researched optimizing chemical compounds to create more effective and efficient lithium-based, solid state batteries. Although she never formally studied geoscience, Kayla always enjoyed completing hands-on experiments and getting to be in nature. She was also interested in studying how the Earth and humans interact, and exploring the impacts that natural disasters can have on communities. Kayla was drawn to the USIP program because she wanted to learn more about Earth science and to have the opportunity to step out of her field.
This summer, UNAVCO engineers Summer Rhoades and Sarah Doelger are mentoring Kayla. As a field engineering intern, Kayla has learned about all of the equipment in the GPS stations and practiced installing and updating the equipment. From replacing solar panels to installing wiring to updating batteries, Kayla has gotten to experience what it's like to work as a field engineer at UNAVCO! In addition to traveling to Utah with Sarah Doelger for field work, Kayla was able to participate in the campaign at Mount St. Helens led by Chad Pyatt, during which UNAVCO engineers Lia Jajoie, Andre Basset, Bill Funderburk, and Ken Austin restored or upgraded 15 GPS stations that are used to monitor the volcano. Kayla's internship will conclude with her building a station from scratch on the roof of UNAVCO's headquarters in Boulder, CO to test out what she has learned this summer!
Q&A:
What has been your favorite part of the USIP program so far?
I went to Mount St. Helens and I flew in a helicopter, and that was literally the most amazing thing ever. I got on a plane and flew to Oregon and we stayed in a small town called Kelso…We visited 15 stations and we upgraded the batteries. We moved about 170-180 batteries. Each of them weighed like 70 pounds…A lot of my time in the office has been learning how to build out the entire system for an entire station basically. I was able to change some back panels, which are part of the site. I changed out some solar panels, obviously a bunch of batteries and wiring, updated charge controllers, and I installed a tiltmeter…That was really cool. Every station that we went to, you really couldn't drive to, so we got dropped off in helicopters, then repaired and replaced the stations. It was really awesome. It felt like one of those once-in-a-lifetime opportunities.
What have you gained from your mentorship with Summer Rhoades and Sarah Doelger?
Summer has been so amazing. All of my time with her in the office has basically just been preparing me to learn exactly what we're working with when we go out in the field. Her mentorship has been invaluable. She taught me more than just about the enclosures, but also how we use them—tips, tricks, and shortcuts, and then real-time advantages to using them and how they keep people safe. Then Sarah [and I] went to Utah for a field work trip. She's just awesome. She's super cool. She knows a lot, so being with her in the field was definitely advantageous, like learning about the different radios and the actual real-life applications. Everything was really good.
Have you learned about any new topics/research techniques that have really piqued your interest?
Definitely learning more about GNSS, like all of the satellites that we have just floating around the Earth. I'm really curious how different places use them if that makes sense. Like the ones in Europe and ones in Asia. Just more learning about satellites. I think that'd be really fun.
---
Now that she knows what it's like to work in the field, Kayla never wants to go back to a desk job. She hopes to obtain a position as a field engineer. This summer, Kayla is excited for her friends from college to visit her in Denver and then to go on a road trip back to Michigan with them!