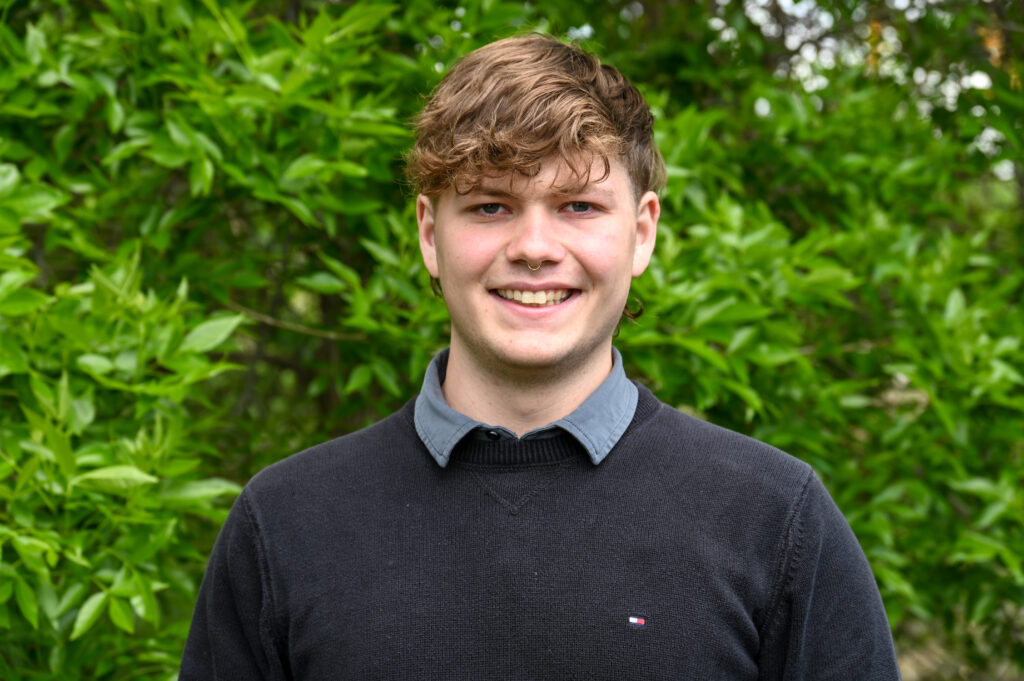 This summer we're introducing interns in the RESESS, Geo-Launchpad, and USIP programs to shine a spotlight on the research projects they are completing throughout these 11-week internships and on their interests in geoscience.
Ian Sulley is a rising senior at Union College, where he is majoring in computer engineering and minoring in embedded machine learning. When he was younger, Ian was always interested in tinkering and deconstructing objects—disassembling his bike, for example. In college, Ian realized he wanted to learn more about what happens behind the scenes in a computer and therefore decided to begin studying computer engineering. At his university, Ian participates in a robotics lab where he studies soft robotics, specifically locomotion and mobility robotics. Previously, he has also completed software engineering internships and an internship at an educational technology startup that created solutions for classroom communication due to the pandemic. Ian is excited to intern at UNAVCO to have the chance to apply his computer science knowledge to geosciences and sustainability.
This summer, Doug Ertz from UNAVCO's Geodetic Data Services team is mentoring Ian. UNAVCO maintains a large photo database for station sites, like GPS and borehole stations. Each time a field engineer visits a station, they document important features about the station, including the installed devices, repairs made, and details about terrain and site access in order to prepare for future visits when the site needs maintenance again. The database that the engineers are able to access all of this information on has existed for nearly three decades. Some of the technology that was originally utilized in the creation of the database is no longer being supported, so Ian is migrating the database to a new, cloud-based system hosted by Amazon Web Services that ensures accessibility and usability for engineers, but maintains all of the functionality and data available on the old database system.
Ian has had the opportunity to build upon his previous software development experiences by continuing to work with Python to execute this database migration. While he has utilized some of the database technology specific to Amazon Web Services in the past, this is Ian's first time tackling such a large project. He is excited about the knowledge he has gained while making higher-level decisions surrounding the infrastructure used for the migration.
Q&A:
What has been your favorite part of the USIP program so far?
I mean honestly, there haven't been any bad parts. It's really all been wonderful. I will say, the opportunity to travel to Colorado at the beginning was incredible, especially because I've never been to that part of the country. I've always wanted to visit there. Also, the opportunity to meet all the other interns who are mostly from other majors and other domains of knowledge and they were also just nice, kind, but also incredibly knowledgeable. [Everyone] just had some interesting research to share with me, and I was just blown away by that experience. It was really an eye-opening time for me to realize what opportunities were out there in terms of what types of people I could work with in the future. It was really, really incredible to visit, but even since then, working with my manager, Doug [Ertz], has been a blast. The actual work part of my job is a lot of fun…I'm given the freedom and independence to solve problems at my own pace, but really make sure my work is high quality, which is nice. I feel really fulfilled that what I'm working on will be used by people and will make a difference in their work, which is really nice. I've also learned so much from seeing what other people are working on.
What have you gained from your mentorship with Doug Ertz?
He's just a very personable guy. He's really friendly. When I'm at work, it barely feels like I'm working… I've had some managers in the past that were fine people, but just didn't make work super interesting and it was very much about outcomes and productivity and getting things done constantly. Working with Doug has more been the opportunity to learn and grow as a person, and also as an engineer. I really, really value the trust that he has in me to complete good work because I really like the freedom and space I have to learn on my own and experiment, and to come up with the best solution I can without just being told what needs to be done. It's been really freeing and given me a lot of confidence in my ability to work in a professional environment and be taken seriously professionally.
Have you learned about any new topics/research techniques that have really piqued your interest?
I came in knowing my interest in designing cloud infrastructure for software projects; for making sure they're…reliable and available to support lots of users. That's something that I hope to continue to use and grow my skills, but I've also liked getting to work with geospatial data. It's pretty different from a lot of other data sources and I like how it's something that bridges the gap between the physical world and the digital world. I feel like what I'm working with can actually…have an impact on the physical level. I'm hoping that I can continue working on a domain that does…environmental monitoring, anything like that kind of bridging what I'm doing on a computer is actually really awesome.
---
Ian's internship with UNAVCO has expanded his interest in geospatial research and professional applications. He hopes to continue applying his computer science knowledge to environmental science through work with an emphasis on remote sensing and mapping. Ian has really enjoyed working remotely this summer so that he can spend time at home with his family, but also with friends throughout the East Coast.